The Game Changers Project

About

The GAME CHANGERS PROJECT is a national media fellowship program for emerging black filmmakers in partnership with community-based organizations dedicated to improving outcomes for males of color.
The purpose of the fellowship is to catalyze "activist storytellers" across the nation who will regularly shoot, edit, and produce 4-minute "micro-documentaries" about black men (and other underrepresented groups) in America who are "changing the game" in various areas such as education, justice, wellness, entrepreneurship, fatherhood, gender equity, etc.. During a three-month fellowship, Game Changer fellows are "embedded" within local community-based organizations and produce short films to advocate the organization's mission. Fellows produce short films on the work of unheralded community heroes, social justice advocates, ex-offenders, innovators, politicians, thought leaders, celebrities, professional athletes, and individuals working to improve outcomes for African American men and boys.
The Game Changers Project is a non-profit enterprise of Forward Ever Media and is generously supported by the Open Society Foundations, the Heinz Endowments, and others.
Fellowship Requirements
Game Changers is not a youth media program. We attract experienced emerging filmmakers (18-35) who reside in (or grew up in) one of the eight Game Changers cities and have solid production experience, including, shooting, writing, editing, and producing short video using professional HD cameras. During a 3-month fellowship, fellows receive a paid stipend, orientation and training, cameras (when available/needed) and assignments with organizations and/or subjects to produce work.

Apply

The selection process is competitive and based on applicants experience, community engagement, and vision as a storyteller. Interested candidates should submit an application and upload (1) sample that best represents their work.
Download and return the application (via email) or fill out the online form here.
Submit a sample of your work: Upload a video to your YouTube account and send us the URL.
Deadline
NOVEMBER 17, 2011 5PM EST.
Please direct any questions to cheo @ forwardevermedia . com between the hours of 9AM and 5PM Pacific Standard Time.



Regions

The Game Changers Project is currently in production in eight US cities: New York, Philadelphia, Pittsburgh, Chicago, Milwaukee, New Orleans, Los Angeles, and Oakland.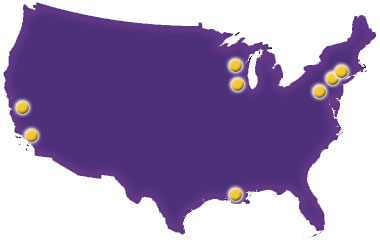 Media Partner
Through an exclusive partnership with MSNBC, the films produced by the Game Changer Fellows are published via a regular web series on theGrio.com.
In the News

The Game Changer Project has been covered by local and national media outlets in print, radio, online, and television. Recent coverage:
OFFICES: New York: 277 Nostrand Avenue, Suite 3B, Brooklyn, NY 11216 California: PO Box 24662 Oakland, CA 94623